14-year-old boy kills his parents in Collier County, FL
"A kid killing a parent is something that's not common. It's even more unusual to kill both parents."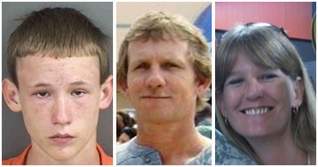 Alex Crain, Thomas Crain, Kelly Crain
December 10, 2010
Many people in Collier County are wondering what would prompt a 14-year-old high school student to allegedly shoot and kill his parents inside their Golden Gate Estates home.
"That's the million-dollar question. It's a very sad day," said Collier sheriff's Capt. Chris Roberts.
However, detectives uncovered enough evidence to charge Alexander Crain with two counts of second-degree murder in the Thursday morning slayings of his parents, Thomas Crain, 40, and Kelly Crain, 39. He's being held at the Collier County Juvenile Detention Center, where he could stay for up to three weeks while authorities decide if he will be prosecuted as a minor or an adult.
Alexander was taken into custody after deputies received a 911 call and arrived at 8:40 a.m. at the two-story house. The Crain residence sits near a canal interspersed with other modest homes on 47th Avenue Northeast, a dead-end road in the community east of Naples.
Inside, deputies found the bodies of Alexander's parents in the master bedroom, according to a Collier sheriff's office report. Both had been shot.
Deputies immediately sought a search warrant from a judge to begin a murder investigation.
Alexander was a freshman at Palmetto Ridge High School, Counselors will be on hand at the school this morning to assist any students who might need help, school district officials said.
Friends and relatives are stunned.
"It's like a daydream right now. You guys have got to be talking about someone else," said family friend Ray Tyler, 50.
Tyler said he has known the family for years and was helping with work around their house.
Alexander, the youngest of the couple's three children, "seemed like one of those little teenage kids that you want to keep an eye on," Tyler said.
He said that Thomas Craig told him that Alexander has "some problems, but all kids have problems."
Alexander's half brother, Nicholas Straight, 22, of Naples, was too upset to comment. "I don't want to talk, not today," he said.
Alexander's other half brother, Jonathan, 19, just graduated from Army basic training at Fort Jackson, Columbia, S.C."
All three boys "were sweethearts," said neighbor Kimberly West.
While she and others were dealing with the shock of the slayings, crime scene investigators and detectives worked late into the night Thursday gathering evidence, trying to find clues to give them more information about the murders.
"We believe we've recovered the weapon," Roberts said. He refused to say what kind of gun it is, or how many times the parents were shot.
The bodies were removed from the house by medical examiners after 7 p.m. An autopsy will be conducted to officially determine the cause and manner of the parents' deaths, Roberts said.
There was nothing on record with the sheriff's office to indicate there were problems at the Crain household, Roberts said.
He said deputies had never been called to the house before Thursday morning and Alexander did not have a local juvenile criminal record.
From appearances, the parents were an average, middle-class couple. Thomas Crain owned a screening and aluminum business where his wife worked as the secretary.
Perhaps evidence found at the scene, and interviews with friends and relatives, will help detectives figure out if the killings were planned or spontaneous, Roberts said.
Laura Streyffeler, a Fort Myers mental health counselor, gave some insight as to what can cause children to kill their parents.
"When kids kill their parents, it's usually gang-related, drug-related, or money-related," Streyffeler said.
Or there could be "an undiagnosed serious mental health issue," she added.
What makes this case so unusual is that both parents were killed, Streyffeler said.
A child may kill one parent who is abusive toward the other as an act of protection, Streyffeler said.
Or a child may kill a parent as an act of self defense, she said.
"A kid killing a parent is something that's not common. It's even more unusual to kill both parents. I can't think of a time that that's happened," Streyffeler said.
---
GOLDEN GATE ESTATES — A 14-year-old was charged with two counts of second-degree murder in the shooting deaths of his parents at their Golden Gate Estates home on Thursday.
Alexander (Alex) Crain, a freshman at Palmetto Ridge High School, was taken into custody at his home at 4240 47th Ave. N.E., where the crime occurred.
The bodies of Thomas Crain, 40 and Kelly Crain, 39, were found in the master bedroom, said Michelle Batten, spokeswoman for the Collier County Sheriff's Office. The couple's two other sons were not home at the time.
Deputies recovered a weapon they believe was used in the shooting, but did not release that information. They had yet to determine a motive or if the slayings were premeditated, Batten said.
Officials said Alex Crain will be charged as a juvenile and it will be up to the state attorney's office to decide whether to charge him as an adult.
Dispatchers received a 911 call around 8:30 a.m. Thursday. Officials didn't confirm who made the call but said it was made from inside the home.
Sheriff's deputies arrived at 8:40 a.m. and created a nearly half-mile perimeter from the family's home as they canvassed the neighborhood for witnesses, or further information.
As deputies investigated, family members began arriving at the scene.
A tall young man wearing sunglasses and carrying a cigarette said "that's my parents' house" after crossing a police barrier.
An older woman, who was dressed in jeans, replied to the same request to stop, "that's my daughter." Another young woman who arrived with the family remained quiet and supportive of the other two.
Kimberly West, 36, who lives on 45th Street, said she's been a family friend of the Crains for about a dozen years and has a couple of sons who are good friends with Alex. She arrived at the crime scene distraught. She said the couple's 18-year-old son is arriving home from boot camp for the holidays.
"He is a sweetheart and I trust him with my life," West said of Alex.
She said she just saw Alex and his mother the day before Thanksgiving at a supermarket. They seemed normal and happy, she said. They invited her over for New Year's Eve.
After hearing Alex was charged in the crime, West was confused, upset and worried about explaining what happened to her 14-year-old son, whom Alex tutored occasionally.
"I don't understand why this happened," she said. "We were very close with the family. We're all very confused and hurt. My first thought when I got there was I have to get to Alex. I have to protect him."
Jasmine Bedsid, 15, lives down the street from the Crains on 47th Avenue Northeast and attends Palmetto Ridge High School with Alex. She said she last spoke with him Wednesday morning when they rode the bus together to school. He wasn't on the bus Thursday morning.
"I never had a problem with him," she said. "I've known him since seventh grade. He's really smart, he's really nice. He always hung around the smart kids, never the bad kids."
Anthony Oleynichak, 17, also attends school with Alex and the two have mutual friends. Although they live a few houses down from each other, they weren't close friends, he said.
"I heard he was a good kid," Oleynichak said. "He had a lot of friends and no problems with people. He wasn't a troublemaker."
Even those that knew the family briefly spoke only kind words.
Enrico Tyler, who owns a company called Tyler's Salvage with his brother, Ray Tyler, was on his way to the Crains' home to pick up equipment left in their backyard last week. He had planned the Thursday pickup with the father, Thomas Crain, the previous week.
Tyler thought he was just stopping by to say "Hi" and to pick up the trailers and vehicles left behind.
"I got chills in my body," Tyler said. "I don't know what to say. This is horrible."
Tyler said Tom and Kelly Crain were very close and seemed very happy.
"They seemed like wonderful parents," he said. "Very understanding. Very nice people."
Tyler said he knew them for almost three months and saw Thomas Crain on a daily basis. Last time they saw each other, they had a bonfire, and all seemed in good spirits. He said he even threw the football around with Alex.
Ray Tyler, 50, of Naples, said he has known the family for several years and was helping with work around their house.
He said Thomas Crain noticed some minor issues with his son.
" 'He's got little problems, but all kids have problems,' " Ray Tyler said the father told him. "He seemed like one of those little teenage kids that you want to keep an eye on."
Carol Pereira, who lives down the street, said when Alex was in eighth grade at Corkscrew Middle School last year he threw a rock at her son Keith. It hit him under his left eye but no stitches were needed. Pereira made a report at the school.
"Since then, I didn't want my son around him," she said.
The family lived on a dead-end street of modest homes bordered by a canal on one side. Police tape still hung outside the house later in the day, and crime scene vans were outside. Records show the home where the shooting occurred was purchased in 2002.
Collier County Sheriff's Office Criminal Investigation Division Capt. Chris Roberts couldn't answer many questions about the deaths at a press conference Thursday afternoon.
"There is absolutely no concern for the neighbors in that area," Roberts said. "We have no reason to believe that there was anyone else involved in this."
When asked what may have motivated the crime, Roberts said the investigation will be aimed at finding an answer to that question.
"Hopefully, that will lead to us determining what was in the mind of this young man this morning," Roberts said.
At this point, Roberts said the investigators had probable cause to arrest him on second-degree murder charges.
"That may change as the investigation develops additional evidence," Roberts said.
In 1998, federal records show, the couple, who were then living on 42nd Terrace Southwest, filed for Chapter 7 bankruptcy. They finished paying their debts in May 2000, when the case was closed. They didn't seem to have further financial difficulties until 2008, when they were sued by a Golden Gate Estates couple, who listed the same 42nd Terrace Southwest address.
Palmetto Ridge High School Interim Principal Gary Brown on Friday morning will make an announcement explaining that counseling services will be available, according to Collier School District Spokeswoman Leanne Zinser.
The school's guidance counselors and psychologist will be focusing on helping the students, and have advised teachers on how to handle the issue. The staff has been told to watch for any students who may need additional counseling and to send them to the guidance office.
In addition, Zinser said, the district's Crisis Team will be sent there to assist counseling staff with providing students and staff with crisis services.
Rate this! 1-5 stars
---