Walgreens 50 Tuft Dobson Large Head Toothbruth
The biggest toothbrush I've EVER seen!
Today (June 04 '07) I picked up the Walgreens 50 Tuft Dobson Large Head Toothbruth.
This thing is HUGE! It's $2.79 and covers 1/3 of my mouth!
Now, the dentists tell you to brush for 2 minutes. They even have toothbruthes that do the time for you. (a wonderful Oral-B that I picked up for $30 a few years back has a 2 minute timer on it - it stops after two minutes).
But with this brush, I think you could cut it down to 1 MINUTE.
Being that the head is so big, you don't have to apply so much pressure to your teeth. Just brush gently back and forth a few times for each 1/3 of the mouth.
left bottom front,
right bottom front,
middle bottom front,
left top front,
right top front,
middle top front.
left bottom back,
right bottom back,
middle bottom back,
left top back,
right top back,
middle bottom back
Done!
There's 12 steps. If you take 5 seconds on each section, that's 5 x 12 or one minute. If you take 10 seconds per section, that's two minutes.
Very gentle toothbruth. The closest thing I've seen like it elsewhere is called the Radius brush and it's $60.
This thing is inexpensive and it works. I don't know how long Walgreens will carry it for, but they're the only ones that have it that I could find online.
Check it out! I got it from the Walgreens by Immokalee & 951 (Collier Blvd). It's down at the bottom shelf where the toothbrushes are.
I'll give it 5 stars so far - first impressions.
I'll give a status update a few weeks from now.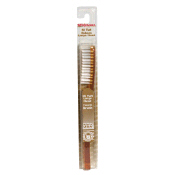 ---